In this article, you will get all the information regarding Accused killer of missing Kenosha man went to Walmart for supplies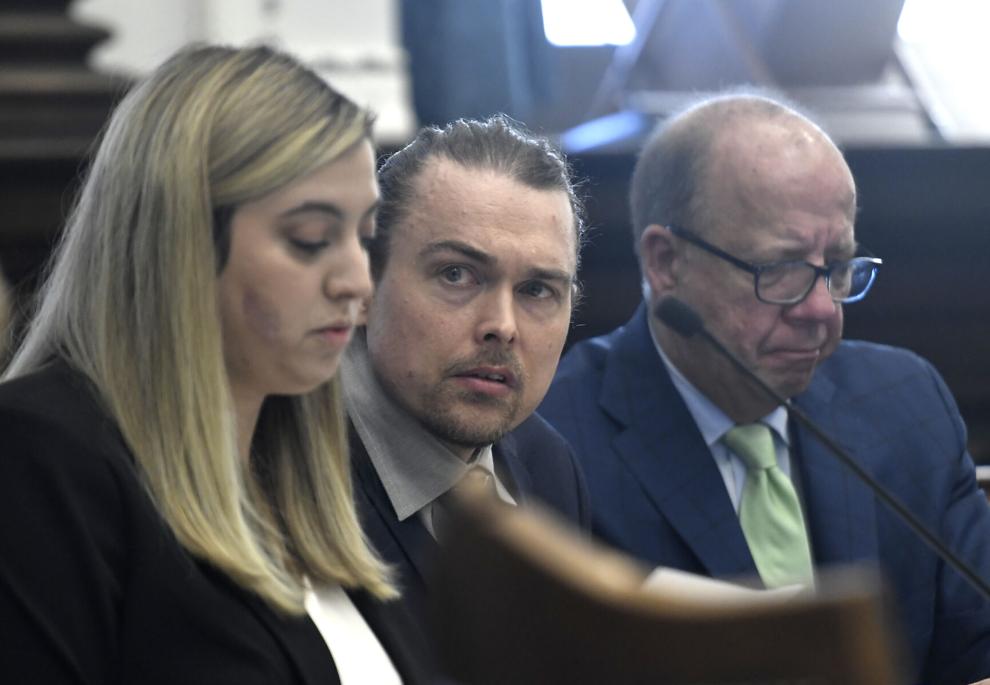 On the morning after Kenosha man Rosalio Gutierrez Jr. disappeared, his accused killer went to a Walmart and bought supplies, according to evidence presented at the homicide trial on Tuesday.
A Walmart manager and Kenosha police detectives testified in the highly publicized jury trial of Zachariah Anderson in Kenosha County Circuit Court.
Anderson, 42, is accused of killing Gutierrez with blunt force on the evening of May 17, 2020, inside Gutierrez's first-floor Wood Creek apartment in a jealous rage because Gutierrez had a relationship with Sadie Beacham, his ex-girlfriend and mother of his children.
Gutierrez's body has never been found and his relatives have not heard from him for almost three years. Prosecutors maintain that Gutierrez is dead based on the large amount of blood spatter found inside his first-floor apartment.
Gutierrez, 40, a father of two young children, was reported missing on May 19, 2020, after Beacham went to his apartment in the 3700 block of 15th Street and found the patio door open with heavy bloodstains on the floor, door and furniture. . Beacham, who testified on Monday and Tuesday, said she tried to reach him by phone before going to his apartment out of concern for his well-being.
Police focused on Anderson after Beacham reported that Anderson stalked and harassed her in the weeks after she began developing a relationship with Gutierrez.
Anderson is charged with first-degree intentional homicide, a Class A felony that carries a life sentence if convicted. Anderson is also charged with crimes of hiding a corpse and stalking.
Det. Phillip Brietchaft said he and another detective were dispatched to Walmart in Saukville on May 21, 2020 to review store security footage from the morning of May 18, 2020 showing Anderson's arrival and departure. Video footage released for court showed Anderson arriving at Walmart in his work van around 8:15 a.m.
Video footage also showed Anderson shopping for about 20 minutes before using the self-checkout system for a handful of items. Anderson then exits the store and drives away in the van in which investigators later find a speck of blood that tested positive for Gutierrez's DNA and evidence of rubbing with bleach. The van also had parts of the interior carpeting removed.
Store manager Peter Wertschnig testified about Anderson's receipt for his May 18 purchase. Wertschnig said Anderson purchased two boxes of 13-gallon garbage bags, two packs of large gloves, Q-tips and two containers of Clorox wipes, among other items.
The Saukville Walmart is about an hour from the Wood Creek apartments.
Ex-girlfriend testifies
Beacham, of Colgate, said Monday she first met Anderson in 2007 and they had their first child together in 2008, when they were still living together. Beacham said the two stopped living together in 2012, but continued to have an on-and-off romantic relationship. They had two more children in 2015. From 2012 to 2020, Beacham said the kids mostly lived with her while Anderson lived "everywhere," including her home in Mequon. Beacham said he often travels for work and visits on weekends.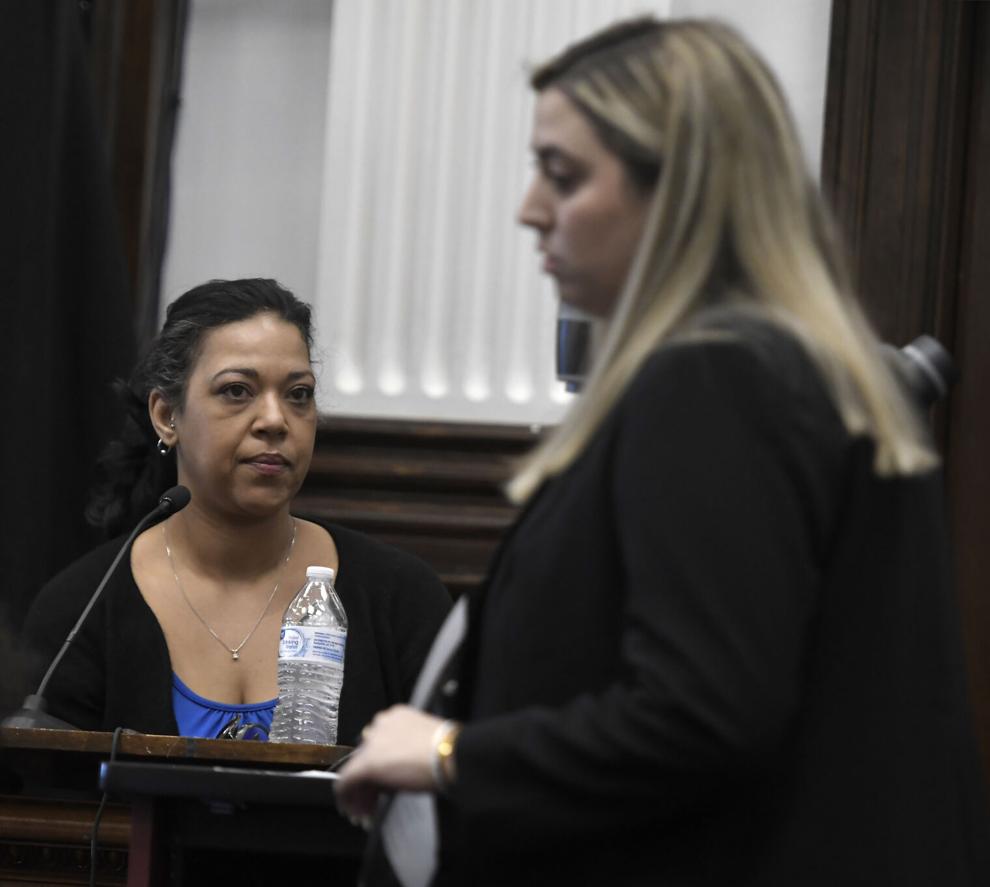 Beacham said she broke up with Anderson in December 2019 and he didn't take it well. Although she began to develop a relationship with Gutierrez, whom she met through Facebook, Beacham said Anderson continued to pursue her until the spring of 2020 and began stalking, following, and stalking her. to spy.
Beacham testified Monday that Anderson found out about her relationship with Gutierrez in April, though she said she didn't tell him anything about Gutierrez.
Beacham also said she suspected Anderson was watching her and even drove through Gutierrez's vehicle in the middle of the night while she was staying with him.
In May 2020, Beacham said that Gutierrez would text her every morning and every evening "without fail" and when she stopped hearing from him on the phone or text after the night of May 17, 2020, she broke down. worried and went to her apartment two days later.
"It was weird that his phone was off and not answering or not answering at all," Beacham said, adding that she decided to visit his apartment on May 19, 2020.
When she arrived at her apartment, she got out of her vehicle and walked towards the screen door which had been left open. Beacham said she called his name several times, but Gutierrez did not respond.
"I felt very sick," Beacham said. "I remember being very scared."
When Beacham looked into the apartment through the screen door, she said she saw "red blood, just a lot of brownish-reddish blood on the floor."
"The apartment looked different," she added. "It looked like furniture had been moved. … I panicked.
Beacham said she called 911 and told them "what I knew."
Beacham said she told a Kenosha police officer at the scene about some concerns she had about Anderson.
On Tuesday, Beacham expanded on her relationship with Gutierrez and how he said he wanted to protect her from Anderson in their texts.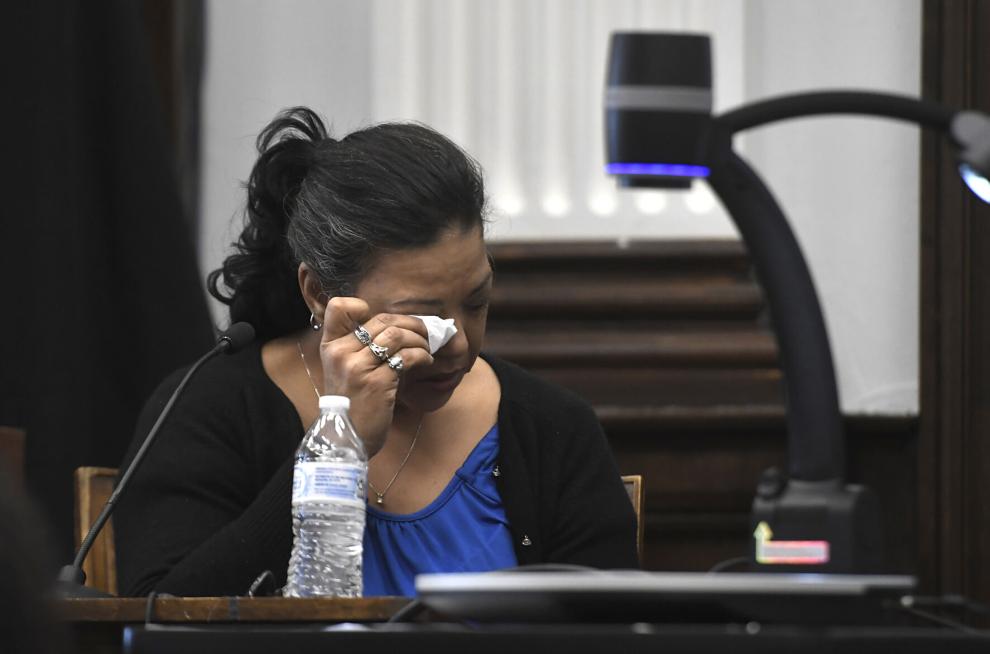 "We had only been together for a few months but we talked a lot and we had a really good connection and I really trusted him and felt like he really wanted to protect me," Beacham said in tears. .
Duration test
The trial is now in its third week before Judge Bruce Schroeder and is expected to last at least another week.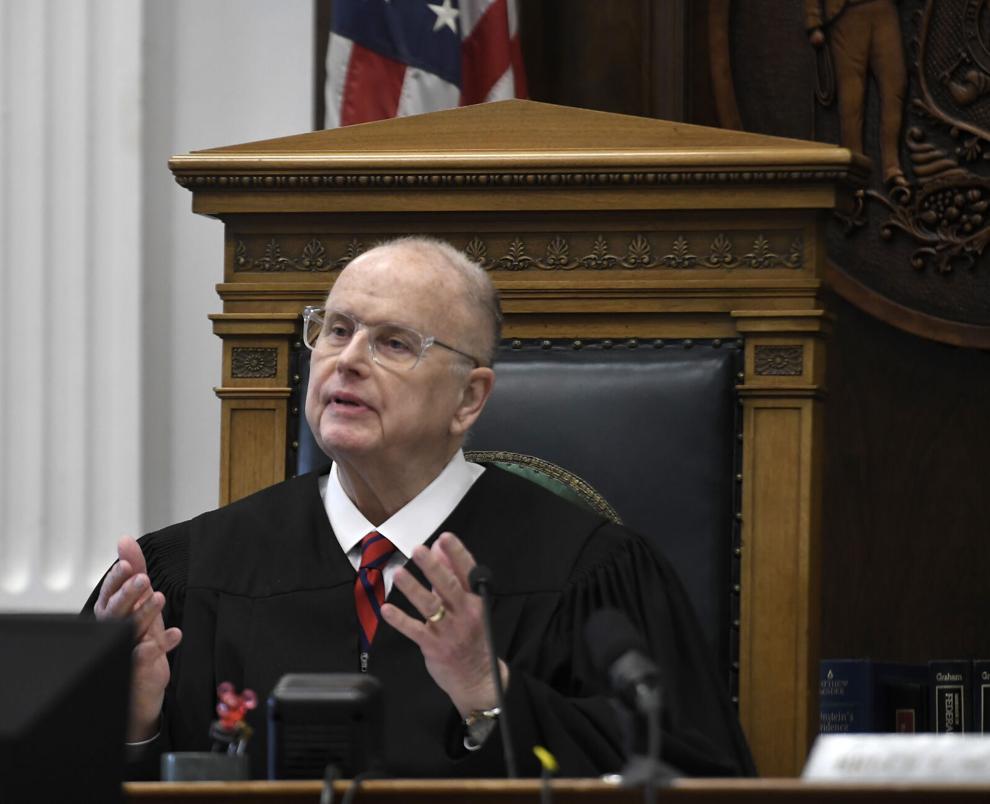 The jury is made up of eight women and five men, including a substitute.
Anderson is being held on $750,000 cash bond at the Kenosha County Jail. He has been in custody since shortly after Gutierrez disappeared, initially accused of harassment.
The homicide charge was added in December 2020 after an investigation found evidence that Anderson may have moved Gutierrez's corpse in his van to another location.
The prosecution is led by District Attorney Michael Graveley, who throughout the trial maintained that Anderson killed Gutierrez out of jealousy and obsession with his ex-girlfriend.
Defense attorney Nicole Muller argued Kenosha police failed to investigate other possible suspects and prematurely focused on Anderson based on Beacham's claims.
Mugshots: Kenosha County Criminal Complaints March 11-13
Mark Steven Carey
Mark Steven Carey53, of Kenosha, faces charges of jumping bail, possession of drug paraphernalia and retail theft (intentionally taking less than or equal to $500).
Matthew Hamilton Demali
Matthew Hamilton Demali55, of Trevor, is facing charges of possession of a firearm by an out-of-state felon, failing to comply with an officer/person in custody, using/ being armed with a firearm while intoxicated, resisting or obstructing an officer, and operating a motor vehicle while under the influence (2nd offence).
Donald Wayne Douglas II
Donald Wayne Douglas II27, of Kenosha, is facing battery charges against an emergency responder.
Step of Shannon Marie
Step of Shannon Marie44, of Kenosha, is facing bail jump charges.
Patricia Lynn Horton
Patricia Lynn Horton38, of Kenosha, is facing charges of child neglect (there was no harm and child is under 6 or disabled).
Leaire Mathis
Leaire Mathis53, of Kenosha, faces charges of Possession with Intent to Deliver THC (less than 200 grams or less than 4 plants) and Carrying a Concealed Knife.
Daniel Millett
Daniel Millett54, of Kenosha, faces charges of jumping bail and disorderly conduct.
Michael Anthony Pearson
Michael Anthony Pearson36, of Pleasant Prairie, is facing charges of probation and parole, second degree sexual assault of a child and incitement to childhood (sexual contact).
Roberto Zamarripa
Roberto Zamarripa34, of Waukegan, Illinois, is facing charges of vehicle driver getaway/getaway officer, reckless endangerment of second-degree security and operating a motor vehicle under the influence ( 2nd offence).
Fox News airs first snippets of exclusive footage from January 6
Michigan power crews work, California recovers from storms
.
Accused killer of missing Kenosha man went to Walmart for supplies
For more visit ReportedCrime.com
Latest News by ReportedCrime.com